Flying Wires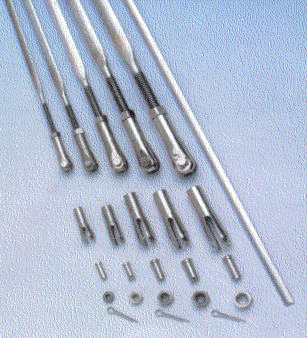 for scale models with streamline wire braced wings

At last you can build your biplane or Golden-Age Racer real scale down to the Flying
Wires! Or just enjoy fitting real scale streamline tailplane wire braceing!
True scale "working" streamline wires in 6 different sizes custom made to order by
Aero Scale Products
Authentic reproduction with streamline section of the following dimensions:
2,0 x 0,5mm ; 2,4 x 0.6mm ; 3.0 x 0.8mm ; 3,7 x 0,9mm; 4.2 x1.0mm and 4.7 x 1.1mm





The wires are oval formed stainless steel with rolled threads at both ends (left- and righthand) of the sizes
M1,6 ; M2; M2,5 ; M3 ; M3,5 or M4.
They are straight and dyn. highly resistant.





Terminals (clevis) at both ends with clevis pin, cotter pin and lock-nut made from nickel plated steel. Sizes according to wire section.





Length according to customers demand. From 150mm (6") up to 1170mm (46") any desired length can be supplied.





The wires are tensioned by simply turning the oval wire between the terminals when fitted to the model. The range of tensioning reaches up to 10mm each side depending on wire size. After tensioning the clevises are counter-locked by means of the lock-nuts and some loctite.





After forming, the wires are heat-treated, which makes them absolutely straight and they get a brownish color. If this "antic-effect" is not desired, the wires can be polished with "Scotch-Brite" (available at the kitchen store).





The wires with threads M1,6 , M2 and M2,5 can only be made pair-wise. A slight difference in length of up to 2mm (at lengths of about 1m) is possible however. It is therefore advised to determine the mean value of the left- and right measurement as the ordering length. If such a deviation is not acceptable (e.g. a difference may just be desired),
this has to be especially stated! The advantage of the pair-wise manufacture is in the more economic price compared
to the sizes M3, M3.5 and M4, which have to be manufactured single-wise.





Clevis, clevis pins, cotter pins and lock-nuts are also available without wire. The lock-nuts feature a much smaller (scale) hexagon compared to the commercially available type and are especially manufactured like the clevis and clevis pins.
They really look scale.





The wire size on rolls, 3,0 x 0,8mm is no more available!





Special quick disconnect end terminals available for in-wing invisibled wire installations as Pitts, Waco YMF etc.





Delay of delivery: max. 3 weeks after receipt of order (ex works).




Dimensions for clevises and threaded lengths at each wire end
Grösse

Dim. L
[mm]

Dim. d
[mm]

Dim. D
[mm]

Dim. s
[mm]

Gewinde- Länge [mm]

M 1,6

8.8

1,6

3,8

1.3

15

M 2

11

2

4.6

1.6

15

M 2,5

11.5

2

5,2

1.6

20

M 3

16

2.5

6

1.8

24

M 3,5

17

3

6.7

1.8

26

M 4

19

3

7.7

2.2

28
Comparison between Full Size & Model Flying Wires
Full scale Flying Wire Sizes

Model Flying Wire Sizes

Size

Width

Thickness

1/5 Scale Width x Thick (millimeters)

1/4 Scale Width x Thick (millimeters)

1/3 Scale Width x Thick (millimeters)

6-40

.192

.048

0.98 x 0.24

1.22 x 0.31

1.63 x 0.41

10-32

.256

.064

1.30 x 0.33

1.63 x 0.41

2.17 x 0.54

1/4-28

.348

.087

1.75 x 0.44

2.20 x 0.55

2.99 x 0.74

5/16-24

.440

.110

2.20 x 0.56

2.79 x 0.69

3.71 x 0.93

3/8-24

.540

.135

2.74 x 0.69

3.43 x 0.86

4.57 x 1.14

7/16-20

.636

.159

3.23 x 0.81

4.04 x 1.01

5.38 x 1.35

1/2-20

.732

.183

3.70 x 0.93

4.65 x 1.16

6.20 x 1.55